Things I Love
I always love sharing resources with people. Especially when I've used them myself and know the benefits and impact they've had on my life.
What Do You Desire?
In 2012, I discovered the book The Desire Map by Danielle LaPorte. I had no idea of the impact it was going to have on my life. Over the years, I recommended it to many friends and bought it as gifts for others.
It completely changed my perspective on my work, my relationships, my dreams, and my goals. Being an analytical type person, it gently guided me as I tapped into my feelings.
The Desire Map is a holistic approach to life planning that uses your core desired feelings as the guidance system for your goal setting.
Danielle is absolutely amazing and is the girlfriend you want on your side. She's created a whole line of products around desire. No matter how you like to learn, she's got you covered.
Check out the book, the ebook, or the CDs.
It's a powerful way to tap into your emotions and create a fulfilling life that has TRUE MEANING to you!
---
I can't tell you how much
I LOVE this candle!!
Everything about it is totally decadent! From the beautiful packaging to the deep, sensual scent.
I have them all around my house and give them as gifts. Everyone loves them!
Whether you're seeking love, clarity, energy, or peace, Danielle's got you covered!
---
If you love to use a daily planner, she has created a series of beautiful planners. These allow you to plan your day while keeping grounded to how you want to feel on a daily basis.
I have not used the planners as I use electronic tools now (see below), but I do practice staying connected to my core desired feelings daily.
I love these daily #Truthbomb quotes for inspiration to start my day. They are elegant; yet simple. Beautiful; yet poetic. Draw a card and have that be your mantra for the day!
Sometimes, just one sentence can change your mind, break open your heart, soothe your soul, or hit you like a #Truthbomb.
Cards, books, cds, and even temporary tattoos! Find your daily inspiration!
---
Sharing the Love (aka Delivering Desire!)
I love the philosophies behind the Desire Map so much that I decided to become a facilitator. This allows me to create soul-centered workshops and help spread this beautiful message.
When creating a life you love and that feeds your soul, you have to go deep. I use this message every day in my own life and in my coaching.
The Desire Map facilitator program is a true soulful business-in-a-box.
Danielle and her team thought of every little detail to get you started hosting your own workshops anywhere around the world quickly.
Prosper while you change lives! As a facilitator, I can honestly say that it feeds my soul every bit as what the participants take away.

---
Focus Favorite!
This brain supplement was created as a labor of love from a neuroscientist and her husband, a toxicologist.
Being a health coach, I've done my share of research on ingredients and liked their combination. I decided to try it and absolutely love the focus and clarity that I get from it.
Take a look for yourself and read up on the ingredients. As always, be sure to tell your doctor about any nutritional supplements that you take.
---
Entrepreneur Lifestyle Tools
As a geek and lover of technology, I also love to share the tools I use to manage my own business. The entrepreneur lifestyle can be really overwhelming for someone who doesn't have a knack for the technical stuff.
My Website
Your website is your online home. You want to make sure the lights are on and the welcome mat is always out. I started having problems with my host, so I moved my website over to Siteground and couldn't be happier! It's incredibly fast, inexpensive, and their support is GREAT!
There are cheaper options, but you get what you pay for. There are also more expensive options, but until you have a ton of traffic, this is a great starting point.
---
Communicating with my Peeps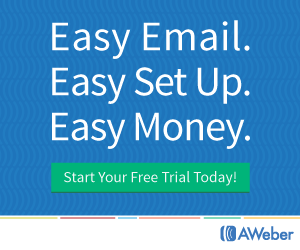 Every entrepreneur needs to have an email list. This allows people to say "Hey! I like what you have to say and want to hear more.", so email marketing allows you to communicate with them.
I knew when I started my business that I wanted to "Go Pro" and went with what was highly recommended…Aweber. The cost is minimal and it works like a charm!
---
Client Scheduling
When you work with clients online, you need to have a way for them to schedule time with you. It's the key to freeing up time and eliminates the back-and-forth with emails.
The little box that you see on my site in the bottom right corner is from VCita. When a client clicks it, they can schedule time with me, purchase a program as it links with Paypal or Stripe, and it integrates with my Google calendar.
It's incredibly flexible and allows me to set up time in between sessions for prep, add my own branding, send invoices, and manage my clients.
---
Disclaimer
Please note:  I only recommend items that I absolutely believe in!  You should know though that I may receive commissions on the items that I recommend above.  If you ever have any questions, please ask!
[xyz-ihs snippet="VCita-Live-Widget"]